Comodo Firewall 2013 New Windows Version
-----
Everyone who has had windows for sometime knows that having an antivirus is only half of the total protection against virus attacks and malware expliots. Get the new Comodo Firewall 2013 for FREE since you definitely need to have a Firewall companion to gain complete security protection against every web-based expliot, attack and malicious programs.
The Comodo Firewall 2013 for Windows has a very streamlined user interface, and offers an enormous range of special features beyond the user expection. This Free Firewall software program includes a plethora of bonus features like sandboxing, a hardened browser, and secure DNS lookup capability.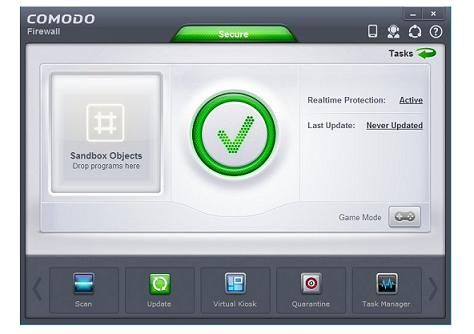 This Free Firewall Protection service by Comodo allows the computer user the decision of allowing or blocking new and unidentified programs. But Comodo configures automatically the permission status for all trusted programs. This predefined rulesets make it easy for Comodo Firewall to configure a program for the type of access appropriate for it to use.
This amazing free product protects your system from most outside attacks and manages access permissions for most local programs. The Comodo also offers sandboxing for safe website surfing, gives Secure DNS to block DNS-based attacks, and includes a behavior blocking internal system that protects mostly critical system areas.
The many special features of Comodo Firewall 2013 makes it a highly recommendable third-party software solution for windows-based systems. The fact that its Free to download and used as free-ware makes it even more impressive.
Related Posts