Navigon GPS app for iPhone on Verizon Wireless
-----
If you're one of those that spend a lot of time travelling on the road using a car, the Navigon GPS app would really suite you. Its the most complete and advanced GPS navigation solution for iPhone users today. The Navigon software features amazing details of map graphics and boasts of smooth animation. While using this GPS application, it displays your current speed, distance to the next turn, ETA – Estimated Time of Arrival, upcoming street or exit name, and trip distance remaining.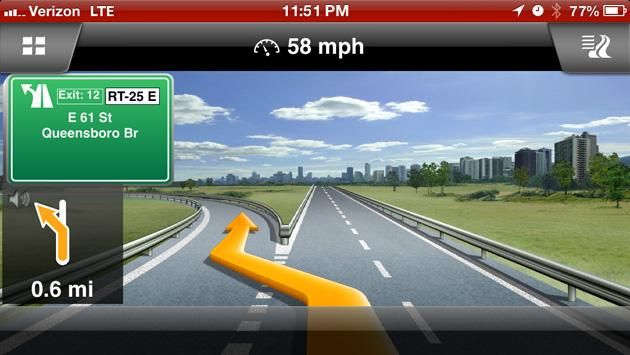 The Navigon app is very informative. When cruising on the highway, its Reality View Pro can display truly accurate depictions of upcoming exit signs, shows speed limit signs on all local routes and also on interstates. The GPS software also shows separate lane assistance arrows when you load the regular 3D map view, and you have the option of also pinch zooming the map to get a broader view of the signs, turns and the road itself.
This GPS navigation app gives well-tuned voice prompts, and has a very efficient map manager that stores data locally yet still conserves storage space. It has very manageable display that works in landscape or portrait mode, and has very interesting traffic reminders like showing colorful pop-ups of new traffic incidents that recently occured near your area.
Navigon offers a more extensive GPS feature set, with mostly innovative optional plug-ins, and has better informative displays compared to other navigation apps. Market retail sale price costs $49 (US version), while the North American version that includes the Canada maps is slightly higher at $59. This is a highly recommended piece of GPS navigation software for iPhone users who are mostly on the road.
Related Posts