ZoneAlarm Free Firewall 2013 The Best Choice
-----
Whether you need protection from malicious attacks, phishing protection, port scans, and direct attacks, this ZoneAlarm Free Firewall 2013 is your best choice for all your security needs. This latest release delivers the same consistent, strong and practical protection as you would expect, with a number of additional new security protection capabilities that includes a Facebook privacy checker and a tool that can block business advertisers from being able to track your browsing habits.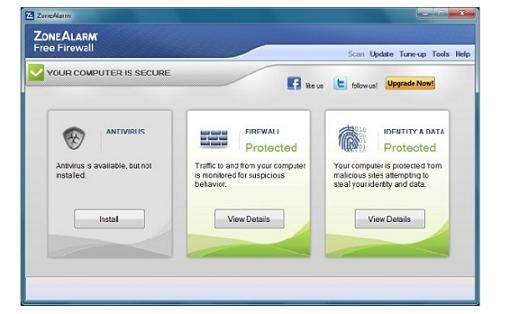 ZoneAlarm Free Firewall 2013 offers an easy installation setup. It also comes with Free Antivirus download that is disabled by default which grants you freedom to choose between your already installed Antivirus and this one.
ZoneAlarm protection has been the pioneer in promoting the concept of toughening the firewall against interference by malicious programs. This Firewall program can not be killed using Task Manager or be disable through its essential TrueVector service and doesn't have status items like "firewall disabled" in the Registry.
ZoneAlarm Firewall has the ability to go stealth system ports scans, making it truly invisible to outside attack. The firewall software application now comes with the SmartDefense Advisor database that can automatically configure access for a vast number of known programs. This means you will get less popup queries from ZoneAlarm, of whether to allow or deny a program Internet access. This capability to handle program control without too many popups is a wellcome new feature with this 2013 version. It can also detect most malicious programs trying to connect by subverting a trusted program.
ZoneAlarm Phishing Protection capability can help you from losing private sensitive information to fraudulent sites. When the program detects phishing behavior, it freezes the browser and displays a big warning. And you can actually view the fraudulent page displayed behind the ZoneAlarm warning. Internet Explorer SmartScreen Filter has the same capability so you can receive better dual protection from both programs.
What's exciting in this 2013 edition is the Facebook Account Privacy checker. Just click the toolbar button that installs the Facebook app. You can then launch it to show the summary of privacy issues in your facebook account. The privacy test report includes recent posts that are totally public and those that you've allowed friends of friends to view, and any posts you've been tagged. There is also a statistics pane that displays the number of posts, shares, likes, and comments your account have.
In addition to these magnificant features of ZoneAlarm, the FREE firewall download comes with a whooping 5GB of free hosted online backup powered by IDrive. Now that's really good all around internet protection. Its a highly recommendable and great firewall choice that performs your much needed protection like most commercial security suites.
Related Posts