iHeartRadio Streaming Music Service Radio Station
-----
This is streaming music for everyone. With iHeartRadio, you get 24 hours free listening to your favorite songs with great audio quality, choose from over 1,500 total online radio stations featuring live music in the internet. iHeartRadio also provides you to enjoy music jamming with its 15 millions songs cataloged, from 16 genre stations, by over 400,000 artists that you will surely have great music experience.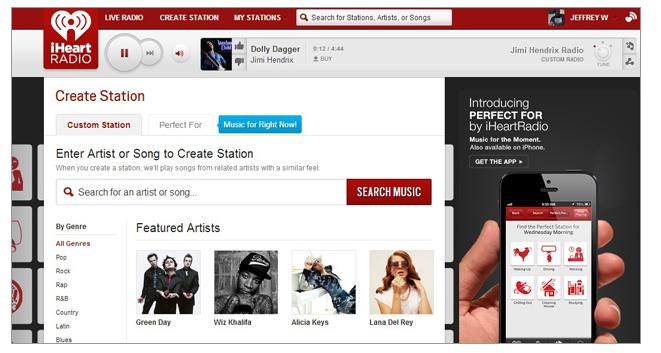 The site homepage of iHeartRadio always shows in the upper portion the featured live radio station. When clicking on a live radio station it opens the station page that displays the genre, location, latest tweet, on-air host's name. There's also a link to station's official website. Then immediately located below would be some favorites like Top Stations Near You (Hot 97, Z100), iHeartRadio Originals (Chamber Music, Baroque Masters), and Featured Artists.
The iHeartRadio My Music section shows the most recent stations that you've tuned into. There is a Scan button that allows the streaming service to search the internet for other related radio stations. There no option however to pause or rewind live radio.
You can also use the "Create Station" icon of iHeartRadio that allows all music fans create a commercial-free station by either typing an artist's name into the search box or choosing one of the featured artists. This created "Curated station" can display song lyrics, artist biography, and allows you to buy songs from either iTunes or Amazon MP3. But you can't however create playlist with this service.
iHeartRadio offers a very manageable platform for streaming music and provides website users the option to create commercial-free custom stations from thousands of radio stations present. This internet radio service can really be a good alternative to the veteran streaming music services like Pandora and Slacker. iHeartRadio gives the basic features you have always loved in a radio station.
Related Posts