Instagram Feeds now accessible via Web Browsers
-----
Instagram photo sharing social media site just made a public announcement that they already made the Instagram Feeds available for viewing through any web browser. Now, you can see your Instagram feeds on any Laptop, Desktop or Tablet browsers just like you would on your mobile devices like iPhone, Blackberry and more.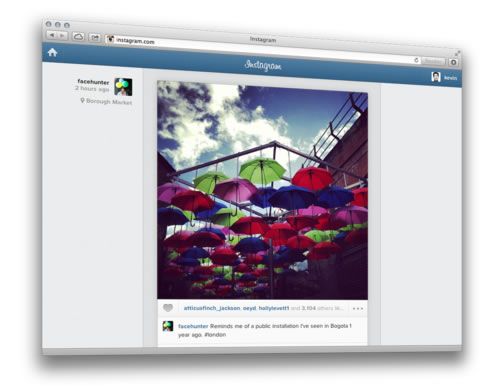 Instagram co-Founder Kevin Systrom made the revelation via a blog post that they would like to make their image and photo service site more accessible to its growing social media community, and not just for mobile platforms that support the Instagram app. The app can still be downloaded from iTunes App Store, but its not anymore just a simple mobile app but a full-pledge all-platform app for any technological device.
In addition to the above feature, you can also comment on and like the photos from the web browser. You can not, however, post photos through it at this time. This is a great solution for those who prefers to keep track of their feeds from their laptop or desktop browsers.
"We believe that you should be able to access Instagram on a variety of different devices, any of which may be convenient to you at a given moment – including your desktop computer or tablet," said Kevin Systrom, co-founder of Instagram. "We do not offer the ability to upload from the web as Instagram is about producing photos on the go, in the real world, in realtime. On the other hand, Instagram for the web is focused on making the browsing experience a fast, simple and enjoyable one."
This is a welcome development for Instagram users. And its highly probable that posting of photos would be available via web browsers in the near future, and not only thru mobile devices. Now, you can view Instagram photos of your friends and family from a larger display screen of your favorite laptops or desktops.
Related Posts